Residential Services
Not only will you be satisfied with the finished product but you will also be satisfied with our competitive prices.
In the last decade we have been focusing on the application of parging on residential homes. In Alberta, it is mandatory to have this application of uncoloured stucco applied to the exposed foundation of the homes.

[rev_slider residential]

We have installed parging on 1000s of residential homes all over Edmonton. We care for numerous home builders and when there is a repair our team of technicians are here to help.

For more information on the following services, click on the images below:
Residential Parging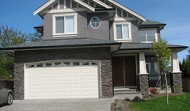 durability in all types of climates
Parging is the application of stucco to the foundation of the home specifically.
It can also protect the foundation from deterioration. It is popular because of its versatility, appearance, availability and durability, for commercial and residential application. It provides a very affordable finish.
Residential Parging Repair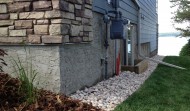 Repairing parging cracks efficiently
Damage due to renovations, window replacements, etc. can be repaired seamlessly by Super Sonic Stucco.
Repairing stucco cracks quickly can save you thousands of dollars. Moisture management is a top priority in a stucco/parging application because water can lead to rust and rot very quickly if unattended.
See more example of parging on our Project Gallery page.
Take a Tour of Super Sonic Stucco
So take a look around, learn more about our approach to stucco applications with commercial projects or residential services. Check out our project gallery or see what clients have to say about us in our testimonials section. And if you like what you see, contact us — we'd love to hear from you.