See how we go Beyond Superior Workmanship
Our management has many years of Experience in all types of Stucco Applications and Plastering Technology
See how we go Beyond Superior Workmanship
We strive to create an environment within our company that shows respect for all that come into contact with us.   We do this while still making productivity, efficiency and safety our priority.  Our management team has over a decade of track record to prove that we excel in these areas.  We take pride in educating ourself with where the market is headed and any new products that provide a better end product.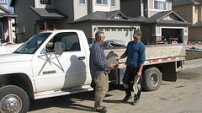 With our team of experts we have the ability to focus on two divisions of stucco applications. The first division is within residential areas. Our main thrust here is parging application but we also complete stucco homes per season as our schedule permits. The second division is commercial buildings where our focus is solely parging application.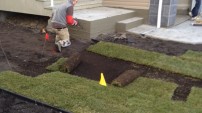 We are continuing to expand in Alberta so keep us in mind with all your operations regarding parging application. We take pride in our work and are committed to provide the best possible finished product. Scheduling and completing the jobs in a timely fashion is important to us. Another important aspect of the company is the safety of our workers and those in the area. Therefore our workers have First Aid training and the company is certified and works along with Alberta Construction Safety Association (ACSA) in creating and adhering to a comprehensive safety manual.
Take a Tour of Super Sonic Stucco
So take a look around, learn more about our approach to stucco applications with commercial projects or residential services. Check out our photo gallery or see what clients have to say about us in our testimonials section. And if you like what you see, contact us — we'd love to hear from you.